BMX NEWS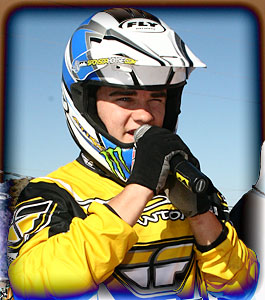 Mike Moeller re-joins Crupi - CRUPI signs Mike Moeller for the 2006 Season!
Arcadia, California - Crupi BMX is proud to announce that Mike Moeller has signed with Crupi for the 2006 season.
Mike was an original member of the Crupi/Challenge Team back in 2000 and '01, then moved up to the Crupi Factory Team in '02 and '03.
Mike has since proven himself as a Top 10 AA Pro (currently in 8th place points going into the ABA Grands) and will be Crupi's only Pro rider for 2006.
Cristian Becerine and Jason Richardson who have been with Crupi through the '04 and '05 seasons will move on to new teams in 2006.
Crupi would like to express how much they have enjoyed having both Jason and Cristian on the team and wish them all the luck with their new ventures in 2006.
Both Cristian and Jason will finish off the season with Crupi through the 2005 ABA Grands.
Mike's first race for Crupi will be the NBL Christmas Classic in Columbus this Christmas.
Look for Mike at most ABA and NBL Nationals in 2006 as well as at the Supercamp Training clinics along with Bubba Harris.
Please help us welcome Mike back to the Crupi Team when you see him!
---
SE Bikes Nationwide Bike Donation
In an effort to help build the local programs at BMX tracks nationwide, SE Bikes has done the unthinkable: We have donated an SE bike to a track in EVERY state in the USA. And we even sent some up to Canada too!
That's right; over 50 complete bikes are being sent out this week from our worldwide headquarters in Philadelphia, PA. Keep an eye on your UPS driver as he may be overstocked with SE bikes!
We have donated these bikes with the intention that they will be used as "loaner" bikes for new riders coming to the track for the first time. If these new riders put in their first few laps on a race-ready SE bike, then we're sure that they'll get hooked on BMX. We know that the beginners of today are the experts and pros of tomorrow.
The following tracks were chosen to receive an SE bike:
| | |
| --- | --- |
| ST. ALBERT BMX | AB Canada |
| FAR NORTH BMX | Alaska |
| Wiregrass BMX | Alabama |
| HOG WILD BMX | Arkansas |
| SARA PARK BMX RACEWAY | Arizona |
| COAL HILLS BMX | BC Canada |
| IMPERIAL VALLEY BMX | California |
| PRAIRIE CITY BMX | California |
| Falcon BMX | Connecticut |
| PIKES PEAK BMX | Colorado |
| FIRST STATE BMX | Delaware |
| Daytona BMX | Florida |
| RED BUD BMX | Georgia |
| CEDAR RAPIDS BMX | Iowa |
| NORTH IDAHO BMX | Idaho |
| THE HILL BMX | Illinois |
| IMAGINATION GLEN BMX | Indiana |
| PALMER PARK BMX | Kansas |
| Derby City BMX | Kentucky |
| CARGILL PARK BMX | Louisiana |
| CAPE COD BMX | Massachusetts |
| SOUTHERN MARYLAND BMX | Maryland |
| NORTH STATE BMX | Michigan |
| Southaven BMX | Mississippi |
| RUM RIVER BMX | Minnesota |
| RAYTOWN BMX | Missouri |
| Countryside BMX | Missouri |
| GALLATIN VALLEY BMX | Montana |
| BURLINGTON BMX | North Carolina |
| RED RIVER BMX | North Dakota |
| TRI-CITY BMX | Nebraska |
| Rye Airfield BMX | New Hampshire |
| Egg Harbor BMX | New Jersey |
| BADLANDS BMX | New Mexico |
| BIGHORN BMX | Nevada |
| New Paltz BMX | New York |
| LAY INDUSTRIAL BMX | Ohio |
| SAND SPRINGS BMX | Oklahoma |
| ROSEBURG BMX | Oregon |
| LEBANON BMX | Pennsylvania |
| OCEAN STATE RT. 44 BMX | Rhode Island |
| SOUTHSIDE BMX | South Carolina |
| BOX ELDER BMX | South Dakota |
| TIPTON COUNTY BMX | Tennessee |
| SPEEDARAMA BMX | Texas |
| UINTAH RECREATION BMX | Utah |
| Catamount BMX | Vermont |
| Richmond BMX | Virginia |
| YAKIMA VALLEY BMX | Washington |
| WINNEBAGOLAND BMX | Wisconsin |
| Poor Farm BMX | West Virginia |
| RAZOR CITY BMX "THE CUTTING EDGE" | Wyoming |
And don't think that we're just sending out our least expensive bike. No way José! Forty-three tracks will receive the Ripper Jr. and nine tracks will receive the Bronco X-pert. At SE Bikes, we're continuing to "Make it Happen" all across the USA.
---
UCI BMX Ranking
The ever more important UCI BMX Ranking is in full swing on all four continents. While it's coming to an end on the southern hemisphere, it's just getting hectic in Europe and North America. A new feature for this year is the Junior Men and Junior Women ranking, and although the Junior riders does not compete for the overall ranking prize money of 30'000 Swiss Franc, their presence will be highly important leading up the 2008 Olympic Games.

Continental Ranking – Latin America
After 10 ranking rounds, the Latin American ranking has come to an end. Jonathan Suarez (Venezuela) has made a triumphant return to his continent scoring the maximum 84 points (winning 8 out of 10 races). In the Elite Women ranking, the current World Champion Gabriella Diaz (Argentina) has been almost equally as successful scoring 72 points.

Continental Ranking – Oceania
With 2 rounds remaining, Luke Madill (Australia) is leading the scoreboard with 69 points, with Michael Robinson (Australia) in runner-up position with 61 points. Tanya Bailey (Australia) is leading with 41 points, followed closely by Serena Kastermans (New Zealand).

Continental Ranking – North America
After 5 of the 10 rounds completed, the North American ranking is lead by Mike Day (USA) on 42 points; closely followed by Robert De Wilde (Netherlands).It will be a tight race through the Canadian UCI rounds leading up the NBL Stars'n Stripes National at South Park, PA. In the female division, the 2004 Junior World Champion, Kimberly Hayashi (USA) is leading, but her arch rival Samantha Cools (Canada) is not far behind and will gain momentum once the series hits Canada.

Continental Ranking – Europe
4 rounds into the European BMX Championships, Thomas Allier (France) has shown great consistency and is leading with 40 points, closely followed by Ivo Lakucs (Latvia) and last year No. 1 UCI ranked rider Michal Prokop (Czech Republic). With Allier temporally out with injuries, the European points chase will be a thriller all the way up to the European BMX Championships final in Echichens, Switzerland. Jana Horakova (Czech Republic), 45 points, is leading a close race with Willy Kanis (Netherlands) and Laetitia Le Corguille (France).

Make sure to check out the current ranking (including the overall ranking and the Nations ranking) on; http://www.uci.ch/uci/bmx/online

2005 UCI BMX Supercross World Cup – Aigle Switzerland
The 1st round of the highly anticipated 2005 UCI BMX Supercross World Cup in Aigle, Switzerland is only a few weeks away.

The 1st round will be held at the UCI/World Cycling Centre BMX track, and although it has a traditional layout the highly technical track will be further modified. The UCI track builders Tom Ritzenthaler and Mark Hildebrand will fine-tune the track in the week leading up the event, promising an exciting track purpose build for the best BMX riders in the world.

Not only will there be some exiting races on the BMX track, some of the best BMX freestyle vert riders such as Jamie Bestwick (2003 X-Games gold) and Jay Miron (9-time X-Games medalist) will make a special appearance on one of Europe's biggest vert ramps (situated inside the velodrome complex). The event will be widely broadcasted on TV, including Eurosport, Europe's leading sports channel (reaching 54 countries and 250 million viewers). Make sure to visit the UCI website to view the TV-listings.

For complete event schedule and more information, please Click Here

UCI BMX High Level Training
Under the leadership of Michel Lalande and head coach Hervé Krebs, the 2005 UCI BMX high level training has recently kicked off at the World Cycling Centre in Aigle Switzerland. A group of 20 athletes has been selected to train during a 3 month period leading up the UCI BMX World Championships in Paris, France.

After the initial performance tests and evaluations, the very talented group of riders has been training hard altering between the BMX track, the weightlifting room and the velodrome. The group will also make a few selected appearances at the European BMX Championships and the UCI BMX Supercross World Cup.

The athletes are; Tyler Brown (USA), Roger Rinderknecht (Switzerland) José Luis Diaz Montana (Colombia), Jose Escudero (Ecuador), Emilio Falla (Ecuador), Felipe Faundez (Chile), Javiera Figueroa (Chile), Fabian Hernandez (Colombia), Luciana Hirama (Brazil), Yvan Lapraz (Switzerland), Sifiso Nhlapo (South Africa), Joel Quintero Rodriguez (Venezuela), Vilma Rimsaite (Lithuania), José David Reyes Riotte (Costa Rica), Fernando Silveira (Brazil), Nannan Juang (China), Junhong Zhang (China), Hao Yu (China), Lingiun Tain (China), Xuefei Yu (China).

2005 UCI BMX World Championships, Paris Bercy, France
The most important event of the year, the 2005 UCI BMX World Championships will be take place 29th-- 31st July 2005 at the Paris Bercy stadium, France. As previously announced, the elite events will be scheduled in the evening to assure great media coverage and public interest. You can find the detailed schedule and other useful information on the UCI website;
Click Here

You can also visit the official website for additional information; www.bmxworld2005.com or www.ffc.fr


2008 Olympic Games, Beijing China
In the first week of June, the UCI is sending a delegation to Beijing, China to meet with BOCOG (Beijing Organizing Committee of the Olympic Games), and to have a first look of where the BMX venue will be constructed. This is the first of many visits to establish the Olympic BMX track and venue, and the current plan is that the venue will be finalized in 2007, followed by a test event (UCI BMX Supercross World Cup) in fall 2007.

Make sure to bookmark this link leading up the 2008 Beijing Olympics; http://en.beijing-2008.org
---
Attention Teams and Team Managers
by Shannon Gillette


First and foremost ABA wanted to thank all the Teams and Team Managers for your support this season at the ABA BMX Nationals . We also wanted to give a friendly reminder about a few of the upcoming ABA BMX Nationals .
ABA is offering DOUBLE TEAM PURSES at the follwing ABA BMX Nationals:
June 10-12 ABA Southwest Nationals in Albuquerque, NM.
June 17-19 ABA Midwest Nationals in Rockford, IL.
June 24-26 ABA Volunteer Nationals in Cleveland, TN.
July 1-3 ABA Super Nationals in Desoto, TX.
This is a great chance to put a mini tour together and have some great fun with your riders and friends! ABA hopes to see all the Teams, Team Managers, and all racers at an up coming ABA BMX Nationals real soon .
ABA would like to thank all our great sponsors: Hyundai Motor America, Yamaha Waverunner, Redline Bicycles, Fly Racing, Industrialrideshop.com, GT Bicycles, Mongoose Bicycles, Schwinn Bicycles, Isportstv.com, Intense Bikes, GameStop, and Exclusive One. Without their help, we couldn`t make the 2005 ABA racing season such a huge success.
---
courtesy of the ABA
LIMITED EDITION ABA 2006 CALENDARS COMING SOON!
by Shannon Gillette


LIMITED EDITION ABA 2006 CALENDAR!
The American Bicycle Association is the "World¹s Largest BMX Sanctioned Body." To celebrate almost 30 years of BMX excellence, the ABA is producing a 2006 calendar that showcases the high-flying action of BMX racing captured on film by ABA`s own photo Ace, Dan Mooney. This calendar will feature amazing photographs of BMX professionals, races, and tracks. It will highlight important ABA race information, including special dates to remember.
Celebrate the ABA and BMX racing every day, with this spectacular 17x11-inch wall calendar. The ABA 2006 Calendar is only $14.95 plus $3.95 shipping and handling. Order your limited edition calendar today.
Click on the link below, to order yours today:
---
Double A Marketing
BMX Race Report
ABA Spring Nationals Roseville, CA
The ABA held the latest round of the 2005 series this past weekend in Northern California at one of California's most visited tracks on the ABA National Tour over the past 20 years, Roseville, CA. Roseville has been the home to some of the sports fastest riders as well as some of the best Pro racing battles at ABA Nationals. This year, the fans and riders alike came out to see what the ABA and the Pros had in store and when the race finished up on Sunday afternoon, no one left without some great memories of the Spring Nationals. Randy Stumpfhauser and Brandon Meadows were both there, giving it their all, and here is how they finished out the weekends event:
Randy Stumpfhauser currently sits in 2nd in the ABA AA Pro title chase for 2005 and 1st in Pro cruiser, and he came to Roseville looking to add some more points towards a chance at the #1 plate. Being from Fresno, CA, Randy gets a lot of the Nor Cal fans cheering for him. On Saturday, Randy was in both the AA Pro and Cruiser main events. In AA Pro, Randy was not off the pace ever so slightly and finished up 5th for the day. In Pro Cruiser, Randy was battling out for the lead and crashed in the process, and he need up 8th overall. On Sunday, just like many times in the past, Randy came back ready to do better and he did just that. In AA, He finished up 2nd and 1st in Pro Cruiser. Randy Randy's sponsors include GT Bicycles, Hyundai, ODI, Kenda Tires, Tangent, Sun Rims, Bombshell Forks, Fly Racing, Time Pedals, SRAM, AC, Powerbar, CTI Knee Braces, Tool Shed, SDG, DC, Easton, S & M, Fox Riders Co Clothing, Cyto Sport/Cyto Max, and BMXpros.com

Brandon Meadows
lives just minutes from the Roseville BMX track and to watch him ride there was like going to a clinic, as he had all the fast lines down. On Saturday, Brandon finished up 4th in AA Pro, continuing his impressive streak of great AA results. On Sunday, Brandon was a bit sore from a crash in Pro Cruiser on Saturday, but it didn't show, as he finished up 5th in AA and 2nd in Pro Cruiser. This is Brandon's best AA Pro season to date and he looks to continue the great riding and impressive results for the next few years. Brandon's sponsors include Specialized, Fly Racing, Tangent, Thomson, Big Tool, Shimano, Specialized AA Main Tires, Cyto Sport/Cyto Max, Tool Shed, Sun Ringle, Powerbar, and BMXpros.com.
Double A Marketing proudly represents Cristian Becerine, Kyle Bennett, Dale Holmes, Christophe Leveque, Brandon Meadows, and Randy Stumpfhauser. For more information on any of the riders, or on Double A Marketing, please e-mail Pete Dylewski @ PeteD@BMXpros.com, or visit www.BMXpros.com
---
WADE IS BACK AND WITH A NEW FRAME.
4/5/05
THATS RIGHT, WADE BOOTES IS BACK TO RACING BMX AND HE WILL BE DOING IT ON A NEW FRAME. THE COMPANY IS BRAND NEW OUT OF AUSTRALIA AND QUITE HONESTLY, THE FRAME LOOKS LIKE CRAP, BUT YOU BE THE JUDGE.

---
BUBBA MEET NBL, NBL MEET YOUR NEXT SUPERSTAR.
4/4/05
THE NBL THIS WEEKEND HAD THE PLEASURE OF WITNESSING THE ABA SUPERSTAR NOT ONLY RACE AT THE GATOR NATIONALS BUT WIN BOTH DAYS. LOOKS LIKE BUBBA MIGHT BE IN CONTENTION FOR THE NBL NATIONAL #1.
---
| | |
| --- | --- |
| | GREG HILL AND GHP ARE BACK FROM THE ASHES. |
4/4/05
HALL OF FAME PRO, GREG HILL, HAS RESTARTED HIS OLD COMPANY GHP. GHP WAS A TOP NOTCH COMPANY BACK IN THE DAY. HE PUTTING OUT A CHROMOLY FRAME THAT WAS DESIGNED BY BILLY GRIGGS ALONG WITH HIS FAMOUS STAR BARS. THERE WILL BE LIMITED RUN ONLY ON FRAMES SO MAKE SURE TO GET YOURS. AS SOON AS WE GET MORE INFORMATION I WILL PASS IT ALONG.
---
PORTER RACING READY TO RELEASE NEW 2005 FRAMES.
4/4/05
PORTER RACING OUT OF OHIO IS GETTING READY TO RELEASE THEIR NEW AND IMPROVED 2005 FRAMES THIS SPRING. THEY HAVE MADE SOME IMPROVEMENTS TO THEIR ALREADY AWESOME FRAME INCLUDING MAKING TWO SIZES OF THEIR PRO FRAME. TAKE A LOOK AT SOME OF THE PICS DOWN BELOW:
SUPERCROSS AND HOLIDAY DEALS.
12/7/04
Well, it isn't that there is a bunch of new stuff going on in the product line, but we do have a few special offers going on during the holidays in celebration of the ABA #1 and #2 titles in Pro Girls taken by Sammy and Arielle on thier EVO's we are going to offer a special on all EVO frames sold between now and Dec. 31st 2004, where you can also purchase a 2005 Supercross Team Jersey like Sammy wore while winning the title for only $39.95 instead of the usual $69.95 so a $30 savings off of a Frame and Jersey Purchase. And in celebration of Answer winning the ABA #1 Factory Team title while using our StrongArm cranks we are going to offer a special on them where they are going to be $199.95 for the month of December and you will get a free Answer BMX sprocket a $39.95 retail value for a total of a $80 savings on Supercross StrongArm cranks during the month of December. And this on top of the UL Frame special where you get a free Copy of TR3 from Transit. Now remember these specials are only good for the month of December 2004 so if you want to get in on the specials you need to act now. Check the shop page for these and other specials now. Or e-mail us at specials@supercrossbmx.com
---
SE LOOKING FOR A FACTORY TEAM
12/7/04---FROM BMXMANIA.COM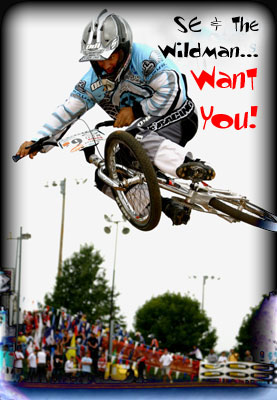 SE Announces New Factory Team Effort!
Wanna ride? Check in with The Wildman!
SE Bikes is looking to build a Factory Team for 2005! It has been a LONG time since SE Bikes has had a race team terrorizing the national circuit.
Well, the wait is over! SE is looking to put together a five-rider FACTORY TEAM for 2005. This team will be led by the Wildman himself, Todd Lyons.
If you think you have what it takes to be on the team, e-mail your bio and a little resume to Todd at Wildman@Toddlyons.com.
This is the real deal. Todd hooked up with SE two years ago after HE read on BMX Mania Dot Com that they were looking for a pro rider. It's up to you to make it happen.
SE Bikes is ALSO drafting up a co-sponsorship/grassroots race program that will be available through SE dealers nationwide. This program should be in effect in the beginning of the year.
To check out the 2005 line of bikes, go to www.SEBMX.com.
---

HYPER BMX ANNOUNCES 2005 TEAM ROSTER
-
Carlsbad, California -
Big things are in the works for the
Hyper BMX Factory squad
in 2005. With team manager
Anthony DeRosa
at the helm of the NBL battalion
and
T.J Johnson running the ABA squad
, Hyper is ramping up efforts to dominate b
oth the NBL and ABA national scenes
,
three-peat as the NBL's National #1 Team
, and
score its first ever ABA National #1 Factory Team title.
Hyper has the majority of its 2004 NBL championship team back for battle in 2005, with some major additions. First off, DeRosa has signed east coast rippers
Trae and Terrell Proctor
to the squad. Both brothers have dominated for years and Terrell is coming off the 2004 season as the
ABA's National #1 Cruiser
. Also new are most of the
ABA's 2004 World Championship team
including
2001 and 2004 ABA National #1 Girl
and
2003 and 2004 ABA National #1 Girl Cruiser
Alise "The Beast" Post
,
NBL National #1
Mike Lundy
,
2004 UCI 12 Expert and 12 Cruiser World Champ
Tory Nyhaug
, and
2004 NBL National #1
Connor Fields
. With Post and Rell Proctor, Hyper has managed to scoop up
3 out of 4 of the ABA's overall National #1 amateur titles
. Can you say,
"Blazin' HOT BMX?"
2005 NBL / ABA Factory Team Roster
Lance McGuire - AA Pro ... Jud Ciancio - 36 Expert ... Bob O'Gorman - 35 Expert (NBL only) ... Eric Elliott - 32 Expert - ABA NAG #7
Mike McGonigle - 24 Expert - National #1, UCI World 2 ... Mike Lundy - 18 Expert - NBL National #1... Warren McDow - 16 Expert - NBL National #1
Diego Alejandre - 15 Expert - National #2 Cruiser ... Ben Kubalak - 14 Expert - ABA NAG #5 ... Sinead Miller - 14 Girl - NBL National #3
Amanda Carr - 14 Girl - UCI World #4 ... Trae Proctor - 13 Expert - ABA NAG #4 ... Lahsaan Kobza - 13 Expert - ABA World #1
Alise Post - 13 Girl - 4 Time ABA National #1 ... Doug Hayes - 13 Expert - NBL National #11 ... Tory Nyhaug - 12 Expert - UCI World #1
Connor Fields - 12 Expert - NBL National #1 ... Justin Posey - 11 Expert National #2 (NBL only) ... Terrell Proctor - 10 Expert - ABA National #1 Cruiser
Chad Kerley - 10 Expert - ABA NAG#2 ... Krista Fournier - 11 Girl - NBL National #1(NBL only) ... Anthony DeRosa - 10 Expert - NBL National #1
Samantha Miller - 9 Girl - NBL National #1 ... Jacob Abbe - 8 Expert - ABA NAG #2
Look out for the Hyper squad doing battle at an ABA or NBL race near you
and
check out the new frame line January 2005
. For more info visit
www.hyperbicycles.com
!
---
| | |
| --- | --- |
| | COOLS, ABA #1 WOMENS PRO |
12/03/04
THE TITLE SAYS IT ALL. SAMANTHA COOLS DOMINATED THE WOMENS PRO CLASS THIS PAST THANKSGIVING WEEKEND TO TAKE THE NUMBER ONE WOMENS PLATE HOME.
---
BUBBA AND CARNES TAKE ABA TITLES.
12/03/04
TEAM REDLINE: "WE ARE THE CHAMPIONS" - The ABA BMX season came to a climatic ending on Sunday, November 28th -- with the final tally for Team Redline being TWO ABA National No.1 Pro titles and one concussion. While Redline had hoped to be the first team in BMX history to pull off a Pro Trifecta; it wasn't in the cards this time 'round.
Redline will, though, go down in the BMX history books as the second team to ever win two ABA Pro No.1's in a single year. (The first being Mongoose, with MacPherson & Rupe in 1996).

Anybody who didn't leave Tulsa in sheer awe and shock at Bubba Harris' incredible power and skills, must not have been watching any of the AA motos, semi's or mains. Race after race, Bubba never ceased to amaze everyone in the stands. Whether he was layin' down X-ups, tables or bar-humps in the pro section, or just passing people at will, there is no doubt that he was In The Zone.
Saying that BUBBA HARRIS has been crowned the No.1 Pro in BMX doesn't begin to tell the whole story. The truly amazing thing is how he did it!
The Redline superstar's weekend was constantly filled with excitement that had the crowd on their feet and cheering him on. No one was working the pro section like he was. Mutually, he was feeding off of the crowd response, the very hungry crowd was feeding off of him having fun. In Sunday's semi-main, the Bub'ster incredibly went from 7th place to 2nd in order to make the big show. ABA announcer Jim Reilly summed it up; "I have now seen it all. I quit! BMX will never get better than that race."
But Jim was wrong -- it DID get better. As if the semi wasn't thrilling enough, next came three edge-of-your-seat mains for the No.1 Pro title.
Main #1:Eight of the most powerful BMXers hammered down the first straightaway, and our Redline hero found himself stuck in the back of the pack. Within one straight, he'd moved up to fifth, and had Donny Robinson and John Purse in his sights. Jump by jump, he'd passed them with only the reigning No.1 Champion--Warwick Stevenson, in front. Having the momentum, Bubba was just about to make his move for first when The Warlock cased the last jump and swerved right in front of Bub' '04 Flight bike. The bump forced Bubba to slam a hay bale and he went down in flames, right in the last turn. Was it over for Harris?! ... not even.
Main #2: With an 8th place in the first round, Bubba knew that his only hope would be to win the next two rounds. With a perfect start and first straight, Harris came out of turn one with the lead and never looked back. Despite Stevenson right on his back knobbies, Bubba couldn't resist the urge to throw in a quick X-up over the 25-foot pro section doubles. It was his way of saying, "it ain't over 'til it's over."
Main #3: Bubba's miraculous third main really put an exclamation mark on how bad he wanted the No.1 plate. In the do-or-die final main of the day, he went from 6th place in the first turn, up to 4th place by turn two, and then quickly proceeded to move up to second place through the
monstrous pro section. Entering the final turn, it looked like a reverse-copy of the first main, with Harris and Stevenson practically grip-to-grip. Only this time, Warwick was the one who crash 'n burned, leaving Bubba to win the last main by 5 bike lengths to take the No.1 Pro plate. As he threw a fist of victory in the air, as the crowd went bonkers, he knew the No.1 plate was his.
MAKING BMX HISTORY: This Championship win makes Bubba THEE youngest AA-pro to win the No.1 plate... as he is 2 months younger than current mountain bike legend Mike King (who has been the youngest since 1989). ** Bubba is 19 years, 2 months. King was 19 years, 4 months.
All year long, he's had more motivation than anybody else to become No.1, and it was plastered right there on his chest in his podium acceptance of the coveted Silver Cup. Ever since Bubba's mom Anita lost her 2 year battle to cancer last September, he has been running her name on the back of his jersey. Thus, for the awards ceremony, Bubba turned his jersey around--showing the World who he won the No.1 title for.

* * * * *
JASON CARNE$ took his third consecutive No.1 VET PRO plate; and also made it a down-to-the-wire, edge-of-your-seat nail-biter. He knew what he had to do and did just that. With a 1-4-4 in the three mains, he held on to his points lead by the hair of his chiny-chin-chin. "It wasn't pretty," admitted Jason as he was loading up the Redline pits and rig late Sunday night. "But you can add another No.1 plate to the door. I guess that's all that matters."

* * * * * * *
KIM HAYASHI was also up for the No.1 Pro Girl title, but crashed HARD in her first main, and barely knew where she was the rest of Sunday. After that incredible lawn-dart (topped off with already being sore from a first-main crash the day before), the No.1 Pro Girl title was pretty much already lost to Samantha Cools. With the way points went, Hayashi had to beat Sammy flat out. To much of everyone's' amazement, Kim summoned enough memory to find her bike and got back on the gate for the 2nd and 3rd mains. And despite a mild concussion, she still remembered how to snap out of the gate. But it was obvious by the first turn that she wasn't her usual self, and was dropped by the lead pack.
Kim might've lost her hopes for the illustrious Triple Crown, but on the bright side, still ended her year with an NBL Championship and ABA and UCI World Champ titles. Which we'd sum up as being a pretty incredible season no matter what.
In all, there is no denying that 2004 has been a tremendous year for Team Redline. Two ABA No.1 Pro titles, along with a NBL No.1 and UCI World Championship for Kim definitely proves that when it comes to winning; Redline bikes are the brand that'll get you there. Of course, our Pros couldn't have done it without the quality traction of TIOGA tires, the tremendous stopping power of PROMAX brakes and KOOLSTOP brake shoes, and the smooth rolling SUN RIMS and hubs. Thanks also goes to FSA, WTB, NINTENDO and ON-GUARD Locks for their loyal support and component.
---
NEWS FROM THE FELT CAMP.
12/3/04---BMXMANIA.COM
FELT BMX NEWS 11/30/04 - Paulie Lange raced the ABA Grands over Thanksgiving weekend and put in some more good results. Paulie went to beautiful Tulsa, OK on Tuesday to be a part of the ABA Golden Crank awards. 5 riders and companies are nominated and Felt received 3 nominations. Paulie was nominated for Pro of the year, Felt Flow Rider, Matt Faulk Rookie of the year and Felt for bike of the year. While Felt received no awards but it was cool to be in the top 5. The racing started on Friday and Paulie pulled off an amazing 2nd place at the Pro Spectacular. The Grand Nationals were spread over Sat. and Sun. and Paulie ended up 3rd in Cruiser and a crash in the AA Pro semi. This was the final race of the year and Paulie ended up being ranked #7 in AA Pro and #3 in Pro Cruiser, these are the #'s that he will run on his # plate for next year. In other good Paulie news: Paulie recently signed up to be with Felt for the next two years.
A crew from FOX RIDER CO. went out to Scotty Cranmer's home turf to shoot an ad for an upcoming FOX ad. It will run in the April issue of RIDE BMX and all I can say is it will be a two page spread sequence of a trick that you have never seen before. Scotty told me about some more new tricks that he is pulling that will make people stop and think.
2005 frames are now in stock. Pyre Team as well as all the Sector race frames including Minis, Juniors and Experts. All frames come in Matte Black. For the next batch of frames we are thinking of some different colors. E-Mail info@feltbmx.net with your favorite frame colors.
Felt would like to welcome two new riders to the Felt Flow Team. Ronny Chalk from Corona, CA and Rob Jensen from Arcata, CA are both now riding the new Felt Pyre frames.
Mark you calendars to sit down and watch some TV on December 12th. The Vans Triple Crown from Huntington Beach will be airing on NBC. Sat. Dec. 12th @ 2:00pm Eastern time (11:00am CA time) If I remember right Scotty did pretty good at this one. - Felt BMX T.M. - Alan Foster
---
---
2005 HYPER SNEAK PEEK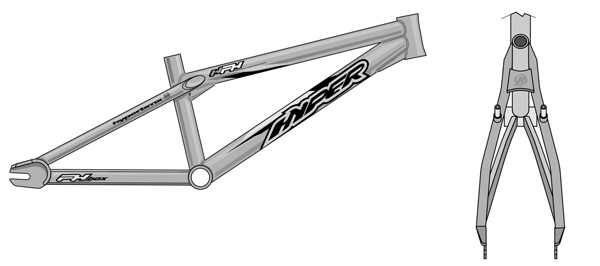 Check out these spy shots of the new Hyper race frames. Word has it they have internal headsets, machined drop outs, euro bottom brackets, and are made from 7005 aluminum double butted tubing. Expect to see eight 20" sizes in Ultra Mini to Pro XXL and two cruisers in Expert and Pro. Colors are Black, White, Red and Polished and will be available in January 2005.
Look out for the entire Factory Hyper squad to be rocking these all next season.
---
ABA LOOKING FOR SOME HELP WITH GOODIES.
11/17/04--FROM BMX MANIA
ABA Is lookin' for companies to help with ABA Grands Swag Bags - Official From The ABA - Well it's that time of year again. It's time for the "Greatest Race On Earth", the 2004 ABA Grands, and this year should be bigger than ever! Each year over 5,000 of the best racers and their families, from all over the world, show up for this event. These racers look forward to the Swag/Goodie bags that are chuck full of stickers, product, catalogs, and other cool items. They are handed out at the event, and this year will be no exception. The Swag/Goodie bags go to the racers and this is a great opportunity for "YOU" to give back to the riders that have supported the BMX industry all season long. Let's all step it up for the racers at this year ABA Grands.
We are putting together 3000 Swag/Goodie bags. Like I said above, we're looking for stickers, products, catalogs, and any other cool items you might want to put in there for the racers. I know 3000 is a large number to meet soooooo, if you only have a few items, send it/them on over anyway. We'll get it/them in the the bags for you. My goal this year is try and have at least one piece of product in each bag. I think if everyone digs deep we can make it happen. Please let me know if your company is planning on sending some items for the Swag/Goodie bags. Thanks to everyone this year for the support, it's been a great season. Now let's end with a big bang!
---
YAMAHA WAVERUNNER GEARING UP FOR THE BIG SHOW.
11/17/04
The 2004 ABA National Series is heating up on the amateur side BIG TIME! With Yamaha Waverunners being awarded to the ABA National #1 Boy and ABA National #1 Girl you can bet racing is as exciting as ever. As of the ABA Fall National weekend, these are the Top 15 riders that have their eyes on the ABA National #1 titles and the Yamaha Waverunners.
On the boys side we have Redman/Yamaha Waverunner's Jeffery Pease sitting atop the ABA National points and is in the lead for the Yamaha Waverunner. On the Girls side Avent/Bombshell's, and defending ABA National #1 Girl Cruiser Alise Post is also atop the ABA National points and in the lead for the Yamaha Waverunner. But rest assured there are a bunch of other riders close on the heels and have their eye on the prize as well. With all this excitement the 2004 ABA Nationals will be second to none.
ABA National Boys Top 15
1 JEFFERY PEASE (14) 1666
2 BILLY RUSSELL (11) 1648
3 TERRELL PROCTOR (10) 1642
4 JOSHUA OIE (15) 1637
5 MIKE MOELLER (17) 1633
6 JOEY BRADFORD (15) 1630
7 SEAN LECHNER (13) 1629
8 TRAVIS OHRAZDA (14) 1626
9 LAIN VAN OGLE (9) 1624
10 MICHAEL LUNDY (18) 1620
11 VANCE WIESENDANGER (20) 1620
12 LOGAN OWEN (9) 1617
13 DAVID HERMAN (16) 1614
14 CORBEN SHARRAH (12) 1606
15 JARRED REUTER (9) 1597
ABA National Girls Top 15
1 ALISE POST (13) 1537
2 SHELBI LONG (13) 1536
3 AUBREY FREEMAN (9) 1529
4 TERRA NICHOLS (14) 1527
5 BROOKE CRAIN (11) 1526
6 CASSIE BUSHNELL (18) 1519
7 TAYLOR WOLCOTT (11) 1518
8 ABIGAIL HUVARD (12) 1518
9 ANDREA DRESSLER (8) 1513
10 JOURDAN CERVANTES (12) 1513
11 BRITTANY LOUNSBURY (15) 1508
12 SAMANTHA BRETHEIM (12) 1505
13 AFTON SCHRIMPF (20) 1504
14 BRIANNA CUMMINGS (9) 1504
15 JACEE LEMPNER (7) 1498

Also, for all you ABA racers out there, don't forget your eligible for a Yamaha Waverunner also. All you have to do is race an Open Class at a 2004 ABA National and you're entered to win one also. How cool is that! The winner of the Yamaha Waverunner will be drawn at the Friday Night PRO Spectacular/NAG 5 Challenge event. The winner must be present at this event to win. So don't miss out!
---
ABA 2005 SCHEDULE IS HERE
11/12/04
Without further delay, here is the 2005 ABA National Schedule as it stands right now.
Date
Race
Venue
Location

Jan 7-9

Silver Dollar National
Vet, Girl & Pro Cr

Reno Livestock Events Center (indoor)

Reno, NV

Jan 21-23

East Coast National
Double Team Purse

Bob Martin Ag Center (indoor)

Williamston, NC

Feb 4-6

Sooner National

Lazy E Arena (indoor)

Guthrie, OK

Feb 18-20

Winter National
Vet, Girl & Pro Cr

Black Mountain BMX

Phoenix, AZ

Mar 4-6

Gator National
Vet & Girl Pro

Oldsmar BMX

Oldsmar, FL

Mar 18-20

Great Northwest National

Trac Arena (indoor)

Pasco, WA

April 8-10

Dixieland National

Cobb County BMX

Powder Springs, GA

April 15-17

Lonestar National

Fairground Arena

Beaumont, TX

April 29 -
May 1

U. S. National
Vet, Girl & Pro Cr

Orange Show BMX

San Bernardino, CA

May 13-15

Great Salt Lake National

Rad Canyon BMX

West Jordan, UT

May 27-29

Spring National
Vet, Girl & Pro Cr

Santa Clara PAL

Santa Clara, CA

June 3-5

Canadian National # 1
A Pro Only

T. B. A.

June 10-12

Southwest National
Vet, Girl & Pro Cr

Tingley Coliseum (indoor)

Albuquerque, NM

June 17-19

Midwest National
Vet, Girl & Pro Cr

Rockford BMX

Rockford, IL

June 24-26

Volunteer National
Double Team Purse

Bradley County BMX

Cleveland, TN

July 1-3

Canadian National # 2
A Pro Only

T. B. A.

July 1-3

Super National
Vet Pro

Metroplex BMX (covered)

DeSoto, TX

July 8-10

Empire State National

Horseheads BMX

Horseheads, NY

July 22-24

ABA World Championships
Vet, Girl & Pro Cr

Cutting Edge BMX

Ontario, CA

July 29-31

Land-O-Lakes National

Pineview Park BMX

St Cloud, MN

Aug 5-7

Canadian National #3
A Pro Only

T. B. A.

Aug 5-7

New England National

Ocean State Rt.44 BMX

Chepachet, RI

Aug 12-14

Mile High National

Dacono BMX

Dacono, CO

Sept 2-4

Blackjack National
Vet Pro

Reno Livestock Events Center (indoor)

Reno, NV

Sept 16-18

Canadian Grands
A Pro Only

T. B. A.

Sept 16-18

Redline Cup Finals East

Emerald Farms BMX

Greenwood, SC

Sept 23-25

Redline Cup Finals Central

Heartland BMX

Topeka, KS

Sept 30 -
Oct 2

Redline Cup Finals West

Tulare BMX

Tulare, CA

Oct 14-16

Quaker State National

Bumps & Berms BMX

York, PA

Oct 28-30

Fall National
Vet, Girl & Pro Cr

Black Mountain BMX

Phoenix, AZ

Nov 24-27

'05 ABA GRANDNATIONALS
Vet, Girl & Pro Cr

Expo Square (indoor)

Tulsa, OK
ABA would like to thank all our great sponsors: Hyundai Motor America, Yamaha Waverunner, Redline Bicycles, Fly Racing, GT Bicycles, Mongoose Bicycles, Schwinn Bicycles, Industrialrideshop.com, JBL Car Audio, GameStop, Tangent, Lizardskins, Static, and Exclusive One. Without their help, we couldn't make the 2005 ABA racing season such a huge success.
---
ABA HALL OF FAME INDUCTEES.
11/12/04
This years voting was fierce, but after all the dust had settled, this is who was left standing at the induction podium.

70's- Kevin McNeal
70's- Jeff Utterback
80's- Cecil Johns
Industry- RRS craetor Craig Kundig

A big Congrats to all the that were voted into the 2004 ABA BMX Hall 'O Fame.


The induction ceremony will be the Wednesday, November 24th, along with the Golden Crank Awards. Hope to see you all there!
---
NAG 5 CHALLENGE LINE UP ANNOUNCED.
11/12/04
This years NAG 5 Challenge line-up will be faster than ever! This race never fails to be one of, if not "THEE" best Amateur races of the year. We take all the heavy hitters from 15 year olds, to the 36 and over crowd, put them on the gate to see just who is the fastest Amateur in the BMX. This years list, is a list of who's who in the classes. Check them out below!
1 JOSHUA OIE 1637
2 JOEY BRADFORD 1630
3 ANDREW MAYFIELD 1529
4 LEANDRE PARKER 1528
5 KRISTOPHER FOX 1503

1 DAVID HERMAN 1614
2 MIKE BRABANT 1590
3 JOEY BERTHIAUME 1559
4 JASON JEWELL 1386
5 MATT THOMPSON 1286

1 MIKE MOELLER 1633
2 MICHAEL LUNDY 1620
3 DANNY CALUAG 1580
4 JEFFERY UPSHAW 1569
5 SERGIO PENA 1536

1 VANCE WIESENDANGER 1620
2 JUSTIN DICKMEYER 1569
3 ROBERT EDSON 1552
4 JOSH SONTAG 1436
5 CHRISTOPHER BURKE 1427

1 T J JOHNSON 1540
2 DREW DOWNEY 1539
3 DAVID WRAY 1455
4 ERIC ELLIOTT 1417
5 BRENT LEE 1406

1 KIRK CHRISCO 1505
2 STEVE SPENCER 1502
3 TODD HUNTER 1466
4 NICK DIPAOLO 1461
5 WAYNE MCCABE 1242
The list of prizes these guys will be going for is just incredible! Here's what we have waiting in the wings so far for the 8 lucky main makers.
JBL Car Audio system www.jbl.com
GT Mountain Bike www.gtbicycles.com
Schwinn 3-Speed Beach Cruiser www.schwinnbicycles.com
Nitendo Game System www.nintendo.com
Industrial Ride Shop Prize Pack-1 pair of Nate Adams signature DC Shoes, Nixon Rocker Watch, 4 Industrial Ride Shop Shirts, and an Industrial Ride Shop hat. www.industrialrideshop.com
Stay tuned for the rest of the prizes. Trust me, you won't be disappointed!
---
ABA ADDS MORE SPONSORS FOR THE GRANDS.
11/7/04
The 2004 ABA Grands is fastly approaching, and this year is sizing to be one of the best ever. We have a very impressive line of sponsors that are bringing some "Big Prizes" to the 2004 ABA Grands for you ABA riders.
First we have Hyundai Motor America awarding a brand spanking new Hyundai Santa Fe to the 2004 ABA National #1 AA Pro for all his hard work this season. This is the second year Hyundai Motor America has awarded the "TOP DOG" in ABA a vehicle. Last year Warwick Stevenson took home the Hyundai Santa Fe. Who will it be this year? We'll all have to wait for the 2004 ABA Grands to find out! Check out all the great Hyundai vehicles at: www.hyundaiusa.com
This is the third ABA Grands that a Yamaha Waverunner is being awarded to the top amateurs in the ABA. Both the 2004 ABA National #1 Amateur Boy and Girl will be taking home a Yamaha Waverunner for all their hard work as well. But wait, it gets better. A Yamaha Waverunner will also be awarded to a "LUCKY" ABA rider who is present at the Grands and has raced a "OPEN CLASS" at an ABA National in 2004. That a total of three Yamaha Waverunners! How cool is that! Check out all the Yamaha Waverunners at: www.yamaha-motor.com
JBL Car Audio already sponsors one of the top BMX teams on the circuit. But they wanted to do more for the ABA riders. After a very successfull 2003 ABA Grands, JBL has just signed on again as a sponsor for the 2004 ABA Grands. This year JBL will be awarding a car audio system to the ABA National #1 Amateur Cruiser and ABA National #1 Girls Cruiser. They also will be awarding a car audio system to one of the lucky main makers at the 2004 ABA NAG 5 Challenge held on Friday night of the ABA Grands. ABA is very excited to have JBL on as a sponsor for the 2004 ABA Grands. Check out all their great products at: www.jbl.com.
It's great sponsors like these, and all of our other sponsors, that help make the ABA Grands "The Greatest Race On Earth". We hope to see all of you at the 2004 ABA Grands in Tulsa, Oklahoma. It's going to be one you don't want to miss!
ABA would like to thank all our great sponsors: Hyundai Motor America, Yamaha Waverunner, Redline Bicycles, Fly Racing, GT Bicycles, Mongoose Bicycles, Schwinn Bicycles, JBL Car Audio, GameStop, Tangent, Lizardskins, Static, and Exclusive One. Without their help we couldn't make the 2004 ABA racing season such a huge success.
---
ABA ANNOUNCES 2004 GOLDEN CRANK NOMINEE'S
11/7/04
The race for 2004 Golden Crank Awards was heated and fierce. After a record number of votes, and countless hours of tallying all of the votes, the voters have spoken. The Top 5 nominees in each 2004 Golden Crank Award category are listed below in alphabetical order. Congratulations to all who made the Top 5 nominee list this year.
Rookie Pro Of The Year
Brandon Hopkins
Jacob Fitzgibbons
Jason Rogers
Matt Faulk
Michael Hughes
Pro Of The Year
Bubba Harris
Donny Robinson
Kyle Bennett
Paul Lange
Warwick Stevenson
Bike Of The Year
Avent
Felt
Redline
Staats
Supercross
Team Of The Year
Factory Answer/Staats
Factory Avent/Bombshell
Factory Phantom/ On-Trac
Factory Redman Yamaha Waverunner
Factory Redline
ABA would like to congratulate all the nominees for the 2004 Golden Crank Awards.
The ABA BMX Hall of Fame/Golden Crank Awards Ceremony to be held at the Crowne Plaza, ABA's host hotel in Tulsa, Oklahoma at the ABA Grand Nationals. The ceremony will begin at 2:00 PM on Wednesday November 24, 2004. Please arrive approximately 30 minutes prior to start time, for press opportunities.
---
WARWICK'S MADE SHOW POSTPONED.
10/28/04
BMX MANIA HAS JUST REPORTED THAT EPISODE OF "MADE" WITH WARWICK STARRING IN IT HAS BEEN POSTPONED TIL DECEMBER OR JAONUARY. AS SOON AS WE GET A DATE WE WILL LET YOU KNOW.
---
NBL ANNOUNCES FIRST WAVE OF REGIONALS.
2005 NBL Regional Series Schedule of Events - Complete Schedule Coming Soon!
Northeast Region - December 4th-5th, 2004 - Blue Ridge Indoor BMX - Lexington, VA
Midwest Region - December 11th-12th - Dirt 'N The House Indoor BMX - Waterloo, IA
Northeast Region - January 8th-9th - Bay State Indoor BMX - Westfield, PA
Southeast Region - January 22nd-23rd - Daytona BMX - Daytona, FL
Midwest Region - February 19th-20th - Crossroads BMX Indoor - Indianapolis, IN
---
RUSH MCCOMAS SCHOLARSHIP FUND.
10/25/04
The family of Rush McComas would like to thank all of the ABA staff and riders who were present at the East Coast National for their support, love and compassion. There has been a scholarship fund set up for Rush's 3 sons, Nigel, Trevor and Cody.
If you are interested in donating to this tax deductible fund, please make checks payable to Living Word Family Church and write "McComas Scholarship Fund" in the memo line and send to:
Living Word Family Church
C/O McComas Scholarship
10520 Star Rd
Wake Forest, NC 27587
---
WARWICK STEVENSON ON MTV'S MADE.
10/20/04
We finally have an airdate for the episode of MTV "Made" that 2-Time ABA National #1 Pro Warwick Stevenson has been so busy filming for the past 6 weeks or so…mark your calendars for November 3rd at 10pm. Check your local listing for what station MTV is in your area. If you miss it the first time around, don't worry…they air it many times over the course of a month or two.
This will be some exciting exposure for the sport of BMX not to mention ABA, Warwick, Haro, and all of his supporting sponsors who were kind enough to send a TON of product to Lawryn, the girl whom Warwick is teaching to race BMX at ABA's very own First State BMX in Delaware.
Haro set her up with our top-of-the-line race bike, Thor sent her moto gear and casual clothes, Bell sent helmets, adidas sent workout clothes and shoes, Answer sent a set of Warlock signature forks, Oakley sent glasses, and ATI sent pads, grips, and numberplates. Many thanks go out to these folks who helped make it all possible!
So get your VCR's and DVD recorders ready to roll!
---
FLY AND THE ABA TO TEAM AGAIN FOR 2005.
10/19/04
ABA and FLY RACING have teamed up again for the 2005 ABA National Series and ABA State Championship Series. If you were one of the lucky racers to recieve a ABA District # 1 jacket, Top 10 jacket, or ABA State Championship backpack, you know that FLY RACING really stepped up the awards for the ABA Racers this season. And 2005 will be even better! Terry, Ray and the whole FLY RACING gang will again be providing the awards for the ABA District Champs and ABA State Championship Series. You can bet they will be awesome!
---
ABA STEPS UP STATE AWARDS.
8/10/04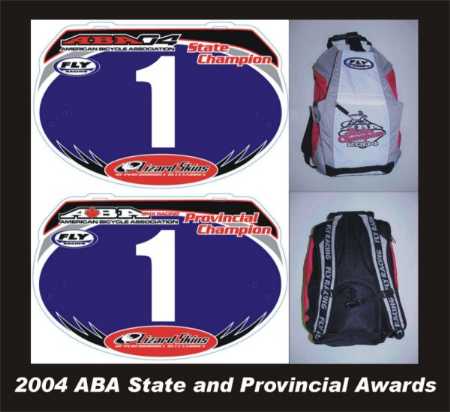 The American Bicycle Association, the world's largest BMX sanctioning body, has stepped it up once again by supplying this year's State / Provincial Champions with incredible number plates provided by Lizard Skins and awesome backpacks provided by Fly Racing. The ABA has worked tirelessly to improve the State / Provincial Series which is most noticeable through the implementation of a numberplate ranking system. For the 2004 season, the ABA has teamed up with Fly Racing and Lizard Skins to provide State and Provincial Champions with the best awards that have ever been distributed through this prestigious series.
Riders will be awarded these incredible Fly Racing backpacks after earning the title of State or Provincial Champion. The Lizard Skin number plates will be distributed to as many as 10 riders in each age group based on specifics as outlined in the ABA rulebook. These improvements are all geared towards increasing participation in the State / Provincial Series while doing the same for local track program.
---
REST IN PEACE CECIL JOHNS.
7/10/04
THE BMX WORLD LOST A GREAT PERSON THIS WEEK, IN CECIL JOHNS. WE NEVER HAD THE CHANCE TO MEET CECIL BUT BASED ON HIS REPUTATION, HE WAS ONE OF THE TRUEST PEOPLE YOU COULD EVER MEET. REST IN PEACE CECIL.
---
INTENSE RELEASES SNIPER
6/26/04
STORY FROM BMX MANIA.COM, THE GREATEST BMX NEWS SOURCE ON THE WEB.

Intense Releases The Sniper! - The much anticipated INTENSE SNIPER frames are in stock now! With ABA's Number 1 Amateur Josh Oie riding the Intense Sniper since the start of 2004 the demand has been pushed though the roof here at VSI Products.
"We are proud to support Josh and Team Challenge Racing" said Toby Henderson Designer and Owner of Intense BMX. With additional teams such as Phantom/On-Trac, Reno Photo, Team Nitro, Fullerton Bikes and Sly-Eyed the frames are in hot demand. Intense went big with this program by offering 12 sizes and 5 colors giving you 60 choices! All frames are in stock NOW! Have your local dealer call VSI Products at 800-844-6768 for ordering. If you want to see all the great specs offered by Intense BMX go to www.intensebmx.com or see the new ad in the ABA BMXer.
---
---
ATi's, Bruce Mayer's Son Killed in Albuquerque - ATi's, Bruce Mayer has lost his son in a senseless shooting in New Mexico. On Thursday morning at 12:30 A.M., Bruce's 23 year old son Christopher was shot and killed in a senseless shooting in Albuquerque, New Mexico. Although information is sketchy at this time, what they do know is that he was returning from somewhere with two girls who were in the front seat of a car and Chris was in the back seat. A shot was heard, a bullet came through the rear of the car, through the trunk and back seat, striking Chris in the upper torso. He was rushed to a hospital, transferred to a trauma center where they worked on him for two hours but couldn't save him due to the nature of his injuries and loss of blood. Bruce is heading to Albuquerque, to retrieve his belongings from his apartment and arrange for shipment of Christopher's body home to San Diego. There will be services for him maybe next week. The thoughts and prayers of the BMX Family go out to Bruce in this terrible time of mourning and loss.
---
STILE INDUSTRIES COMING TO MORENCI.
6/3/04
STILE INDUSTRIES WILL BE PUTTING ON A CLINIC AT MORENCI BMX ON JUNE 30TH FROM 5:30 TO 8:30. THE COST FOR THE CLINIC IS $25.00 IN WHICH YOU WILL THE BASICS OF RACING FROM GATES TO JUMPING. OH YEAH, A GOODY BAG FOR ALL WHO SIGN UP. SEE YOU THERE.
---
MORENCI CHANGES REGISTRATION TIME DUE TO MUD DRAGS.
6/3/04
ON JUNE 6TH, MORENCI BMX WILL CHANGE THEIR REGISTRATION TIMES TO 4-5 DUE TO THE TOWN AND COUNTRY FESTIVAL'S MUD DRAGS.
---
LAY INDUSTRIAL CHANGES TIMES.
6/3/04
INSTEAD OF RACING ON SATURDAY MORNINGS THEY WILL BE MOVING TO SATURDAY NIGHTS STARTING JUNE 12TH. THE NE REGISTRATION TIMES WILL BE FROM 5-6 WITH RACING A.S.A.P
---
SUPERCROSS'S MIGHTY MITE EQUIPMENT.
6/3/04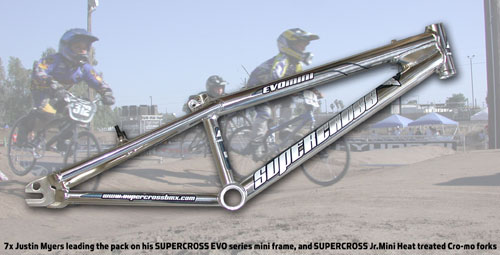 Supercross BMX Announces Their Lineup For The Little Guy Crowd! - Supercross BMX, known for the lightweight Pro sized cro-mo and Aluminum bikes ( UL and EVO series ) and their Super light "Darn Near" unbreakable Heat Treated 4130 Cro-mo forks now has a complete line of Frames, Forks and Bars for the ankle biters, the 5x who will be Pro someday crowd. The EVO series is now in stock in little guy sizes all the way down to Mini ( 18" top tube and 2.3lb weight ) now and have matching 16.5 ounce Heat Treated Cro-mo tapered and butted forks and matching 6061 T-6 aluminum bars. Add in the Answer/SX cranks ( formerly the Supercross Jr. Strongarms ) and you have a complete light weight and super strong hardcore BMX race chassis!!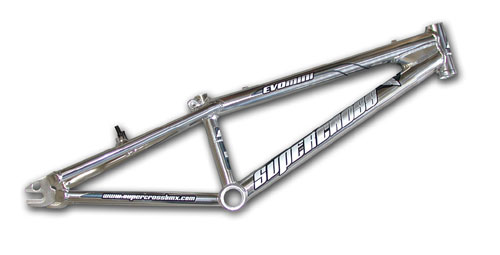 The new Jr. Line of EVO series frames are available in Mini ( 18" top tube ) Jr. ( 19" top tube ) and Expert ( 20" top tube ) sizes. All featuring built in seatpost clamps, utilizing 22.2 ( mini uni size ) posts and have lower headtube re-inforcement rings for maximum durability and longevity on the frames. Colors available are Mirror Polish, Candy Red, Candy Blue, Team Yellow and custom colors are available for a slight additional charge. For more information please visit http://www.supercrossbmx.com or your local Supercross Authorized Dealer.
The Supercross Factory Team consists of AA Pro Jan "The Viking" Baltzersen, AA Pro Henrik "Little Viking" Baltzersen, A Pro Randy Roberts, A Pro Nate Ramos, A Pro Bryan Otten, Vet Pro Todd Parry, Vet Pro Turnell Henry, Girl Pro and Current UCI World Champion Samantha Cools, 36x Ken Pliska, 36X Stan Horton, 28x Moses Tillman, 17-18x Justin Dodson, 17G Rachael Blackwell, 13x Aaron Maxwell, 12X Thomas Richards, 7x Justin Myers
The Supercross Factory Team Proudly uses : Oneal Uniforms, Blur Optics, ATI Pads Plates and Grips, Tioga Tires, Crank Bros. Pedals, Pauls Brakes, SDG Saddles, Thomson Posts, Snap Gears, Answer Shoes, X-1 clothing and Moto Mag.
---
BUBBA DOUBLES!
6/3/04
WE KNOW ITS A LITTLE LATE BUT IF YOU HAVEN'T HEARD BUBBA HARRIS DOUBLED THIS PAST WEEKEND AT BAKERSFIELD. BUBBA PUT ON A SHOW BOTH DAYS. HAS BUBBA FINALLY ARRIVED? YOU BE THE JUDGE.
---
VINTAGE.COM RELEASES DETAILS ON ROCKFORD.
5/14/04 FROM BMXMANIA.COM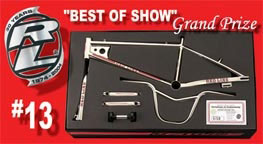 DETAILS ON THE 5th ANNUAL VINTAGEBMX.COM BMX MUSEUM / ROCKFORD, IL - JUNE 19 & 20 - The fifth annual VintageBMX.com Museum in Rockford, Illinois, will be held June 18-19, 2004 in conjunction with the ABA's Midwest National, at Rockford BMX in Rockford Illinois.
This event will open with a swap meet social, the 1st Annual "VBMX Pitbike Jam Open", and the 1st Annual "30+ BS Stops Here Open", on Friday night at the track. The old school fun continues on Saturday with the annual vintage BMX bicycle museum and a bunny hop contest, and concludes Saturday night with a banquet dinner, awards ceremony, and raffle drawing at "Linos" restaurant that will officially close this event. Winner of the "Best Vintage Bike of Show" will take home THEE last remaining un-sold 30 Year Anniversary RETRO REDLINE KIT (serial #13 to be exact). This definitely makes the No.13 "lucky."
Friday Night Trackside Social Location - Rockford BMX Time - 6 PM - 10 PM Entrance Fee - Open To The Public
1st Annual "VBMX Pitbike Jam Open" 1st Annual "30+ BS Stops Here Open" ** Must be a licensed ABA member to race (no entry fee)
Saturday Main Event - Vintage BMX Museum Location - Trackside in the park Time - 7:30 AM - 5 PM Entrance Fee - Open to public
Saturday Night Banquet - Awards Ceremony - Raffle Location - Linos Italian Restaurant Time - 8 PM - 10PM Entrance Fee - Included with Event Pass
Saturday Main Event - Awards/Categories Best of Show (Sponsored by Redline) ... winner to receive #13 retro 30 Year Anniversary Kit ! - Best 70's 20" - Best 80's 20" - Best Vintage Cruiser - Best Vintage Pit bike - Best Vintage Freestyle - Best Looptail (Sponsored by Kappa) - Best Retro 20" - Best Retro Cruiser - Bunnyhop Contest
---
HEAVY DUTY SHUTS DOWN.
5/13/04
THATS RIGHT, THE RONEY FAMILY FOUGHT THE GOOD FIGHT BUT IT JUST WASN'T ENOUGH. AS THIS PAST MONDAY, HEAVY DUTY SPORTS PARK IN ADRIAN, MI HAS BEEN PLOWED. THE TRACK STARTED OFF WITH ALOT OF PROMISE BUT FELL ILL DUE TO MANAGING PROBLEMS. ITS SAD BECAUSE THIS REALLY STRIKES A BLOW TO BMX RACING SCENE HERE IN MICHIGAN. WORD HAS IT THAT SOMEONE ELSE MIGHT BE STEPPING UP TO THE PLATE WITH A NEW TRACK AROUND HERE, I WILL KEEP YOU POSTED. BUT FOR NOW, REST IN PEACE HEAVY DUTY.
---
MICHIGAN NBL OFFERS CHALLENGE.
5/13/04 FROM BMXMANIA.COM
Michigan NBL Issues A Challenge For Jack! - The Michigan NBL along with Just For Fun Racing and Team Diamond, are putting up a challenge to all states during our state qualifiers and finals. We are including Open racing, and specifying that all monies earned go to our favorite photo guy, Jack McDaniel. SO! We are putting out the challenge to all states.....Think you can top Michigan? Good Luck !!
For those of you that don't know Jack, check out his work at IDCBMX.com. Jack took a risk in life to pursue his dreams, now his life is at risk in his battle with Lymphoma. He can use all the help we can give, so if your state wants to take the challenge send your results to jffracer@yahoo.com and we'll see if you can top one of the greatest BMX states out there ... Michigan!
---
FACTORY TEAM REPORT.
5/13/04 FROM BMXMANIA.COM

ABA FACTORY TEAM REPORT VOLUME 3 - Roseville, California - With the season in full swing, the ABA's top factory teams marched into the Sacramento, California suburb of Roseville to do battle at Oak Creek BMX for the US Nationals. Factory Avent / Bombshell came into Nor Cal with the lead over second place Phantom / On Trac, third place Answer Factory, fourth place Factory Sharp and Redman / Yamaha Waverunner rounded out the top five. The stage was set for a major Factory showdown.
If you had to choose a word that described Roseville, that word has to be hot. With 100 degree temperatures scorching the venue, all the Factory riders were hiding out in their team compounds. One of the nicest new trailers was Challenge Racing's new 40-foot rig with air conditioning, a bedroom, and a lounge. Pete Heil is really going the extra mile to keep Factory BMX Racing at a professional level. Redman had the two brand-new Yamaha Waverunners on display just to let the top amateurs know what they were gunning for. Answer had their rig set up minus the Staats trailer and Phantom and Sharp had their compounds under the shade of the Roseville oaks. As always, Redline and Avent / Bombshell had their trailers and product displays out for fans to check out all the latest gear.
HIGHLIGHTS - While most of the Factory kids were toiling under the heat and trying to get the Oak Creek track dialed, local riders used their track knowledge to save energy in the heat of Friday and Saturday's practice. It paid off, with wins from plenty of Nor Cal locals. Sunday was slightly cooler than Saturday, but the action on the track was just as hot
Challenge Racing's Josh Oie was flying over the weekend and was on his way to a double-double when Phantom On Trac's Jay Greene put him over the first turn in his class main on Sunday.....The ABA shot some "friendly" photos with 16 Expert rivals Mike Moeller (Avent / Bombshell) and Sergio Pena (On Trac). They didn't duke it out off the track but they sure did in Sunday's class main when Moeller once again swooped under Pena (who was having Desoto flashbacks) in the last turn to take the win.....On Saturday, Avent / Bombshell's Joey Bradford was killing in motos but sprained his wrist in quarters then tried to do battle with Redman / Yamaha Waverunner's Jeff Pease in the 14 Expert main. After leading Jeff into the second turn, "Pimpin" Pease lived up to his nickname and swooped under Bradford to take the lead and the win.
The exact opposite happened on Sunday with Bradford passing Pease down the second straight to take the win.....Redman / Yamaha Waverunner's Corben Sharrah had no problem moving up into 12 Expert with a double on Saturday.....The "Tribe" pulled in another phenomenal score on Saturday behind the unstoppable Terrell Proctor. Does that kid ever lose? Looks like Terrell's trying to keep the Waverunner in the Redman family.....Phantom gym rat Kyle Biagi rocked the house, doubling up on 17-18 expert both days while Phantom powerhouse Justin Dickmeyer finally proved to the naysayers that he's definitely legit, taking 19-27 Expert both days then jumped ship is now on Redman .....On Trac really has a lock on the top girls in BMX and it showed with wins from Aubrey Freeman, Tiff Ford, and Terra Nichols, doubles from local Jacee Lempner and Shelbi Long, and a triple from local Taylor Wolcott.
Answer's Connor Fields grabbed himself double wins in 11 Expert which didn't fare too well with teammate Jared Garcia. Is this another Answer team rivalry?.....Answer's Mailani McNabb was out on the track sporting a bright orange cape. What's that all about?.....Answer's BoBo Lechner had a miserable Saturday but came back strong with a double on Sunday.....Sharp's new pick up, Kyle Leiber, was the man to beat with a Double Double in 6 Expert and 6-and-under Open....."Redline Girl" Jessica Rodolf was back in top form, knocking Avent / Bombshell's Alise Post off the track and doubling on Sunday.....Crash of the weekend has to go to Auburn / Extreme Sports' Mike Darnley, flying bikeless over the first turn and landing flat from 15 feet up.
When all was said and done, it went Redman (232), On Trac (222), and Avent / Bombshell (218), one-two-three on Saturday's Factory podium. On Sunday, Avent / Bombshell (227) took the win, On Trac (225) pulled in for second, and Answer Factory (217) finished off the podium.
TEAM BREAKDOWN - Factory Avent / Bombshell - The "Bomb Squad" pulled in wins from Joey Bradford, Mike Lundy, and Chad Kerley (Open double). Mike Moeller doubled in 16 Cruiser and won class on Sunday. Alise Post grabbed the top spot in 13 girls on Saturday and beat the boys in 13-14 Mixed open on Sunday. TJ Johnson squeaked a win out at the line on Saturday then obliterated the comp on Sunday in 28-35 Expert.
Phantom / On Trac - On Trac stepped it up with yet another Double Double from "Bad Boy" Billy Russell. Andrew Churchwell nabbed a win in cruiser and Justin Dickmeyer took 19-27 Expert both days then bails out and joins the Redman camp. Jay Greene made the most out of Oie's crash on Sunday and took the win in 15 Expert. The team pulled in wins from Aubrey Freeman, Tiffany Ford, and Terra Nichols, doubles from local Jacee Lempner and Shelbi Long, and a triple from local Taylor Wolcott. Kyle Biagi won class both days and pulled an Open win on Sunday.
Answer Factory - Factory Answer pulled in a Double Double from Travis Ohrazda and wins out of Jared Garcia, BoBo Lechner and Danny Caluag. Mailani McNabb nabbed a first in 14 Girls. Connor Fields doubled up on the 11 Expert class both days and won cruiser on Saturday.
Factory Sharp - Sharp's new pick up Kyle Leiber grabbed the top spots in 6 Expert and Open both days. Despite having the local advantage, Nathan "Jailbreak" Bonilla could only squeak out a win in cruiser on Sunday.
Redman / Yamaha Waverunner - Redman pulled in wins from Jeff Pease, who doubled on Saturday and won cruiser on Sunday, Corben Sharrah, who also doubled on Saturday, Jerek Rosales (Double-Double), and Terrell Proctor (Double Double). Redman pulls off another coup and grabs Justin Dickmeyer from Phantom.
Misc. - Challenge Racing's local boy Alden Volle won class on Saturday while Stephanie Higgins nailed down the Double Double in 15 Girls and Cruiser. Josh Oie doubled on Saturday and won cruiser on Sunday. Pro Concept's Courtney Tomei won 16 Girls both days. Redline's Jessica Rodolf doubled on Sunday, winning 13 Girls and Cruiser. Auburn / Extreme Sports Kelly Brown nabbed a win in Open on Saturday.
After Roseville, the Factory Team standings have been shaken up again. Factory Answer has taken over the top spot just 49 points on top of second -place Factory Avent / Bombshell. Phantom / On Trac dropped back to third, but don't count out fourth place Redman / Yamaha Waverunner, who still only has 10 scores. Bumping Factory Sharp out of the top five is Factory Redline, who has been sneaking up on the pack the entire season with some awesome team scores. Here are the standings:
TOP 5 ABA FACTORY TEAMS

1 Answer Factory / Staats

2 Factory Avent-/Bombshell

3 Phantom-On Trac

4 Redman-Yamaha Waverunner

5 Redline

2585

2536

2441

2208

1978

TOP 5 TEAM AVERAGES

1 Redman-Yamaha Waverunner

2 Answer Factory

3 Factory Avent-Bombshell

4 Phantom-On Trac

5 Factory Redline

220

215

211

203

197
Next "A" schedule meet on the Factory tour is the Spring Nationals in Bakersfield, California. Can Answer hold off Avent / Bombshell and hang on to the lead? Will Phantom / On Trac be able to back up their best performance of the year? Redman / Yamaha Waverunner should be pulling in their 12th score, will it be enough to take over the lead? Can Factory Redline hold it together and stay in the top five? Look for the next Factory Team Report Volume 4 to drop the first week of June!
---
| | |
| --- | --- |
| | PROFILE TO RELEASE TI-SPROCKETS. |
4/30/04
Profile Racing has taken their most popular sprocket design and made it out of billet aerospace titanium! The benefit is both improved strength and a large increase in tooth life.

The new titanium Imperial will initially be produced in 25tooth, 28tooth and 30tooth sizes, but may be made in other sizes in the future. The weight of the 25t Ti imperial is a mere 0.4 ounce heavier than the normal aluminum imperial, but should far outlast it in every aspect. The 25t is out now, with the 28t and 30t soon to come.
---
COOLS AND BALTZERSEN TAKE ON THE UCI CHAMPIONSHIPS ROUND 1.
4/27/04
IF YOU HAVEN'T VISITED THE SUPERCROSS WEBSITE LATELY, YOU SHOULD. SAMANTHA COOLS AND HENRICK BALTERZSEN TOOK ON THE EUROPEONS RECENTLY AND FAIRED QUITE WELL. SAMANTHA TOOK A 3RD ON DAY 1 AND 2ND ON DAY 2 IN JUNIOR WOMENS. BALTERZSEN TOOK TWO 6THS IN ELITE MENS, WHICH IS PRETTY DARN GOOD CONSIDERING HE JUST MOVED WITH BIG DOGS HERE IN THE STATES. CONGRATS TO YOU BOTH.
---
| | |
| --- | --- |
| | HYPER BECOMES THE OFFICIAL BIKE OF THE NBL. |
HYPER BICYCLES BECOME THE OFFICIAL BIKE OF THE NATIONAL BICYCLE LEAGUE
HILLIARD, OH - The National Bicycle League is proud to name Hyper Bicycles of Vineland, New Jersey as the Official Bike of the NBL. Hyper joins the NBL as a National Series sponsor for the remainder of the 2004 National season and for the duration of 2005. Hyper will be touring the national circuit with their race team conducting clinics at select NBL National events.
Clay Goldsmid, President of Hyper Bicycles is thrilled to be associated with the Championship Series. "We are very excited to be the Official Bicycle of the NBL. Teaming up with the NBL gives us a stronger presence at the National Series and the multi year deal allows us to build a stronger relationship with the NBL, and in the coming years that will help us build momentum towards the 2008 Olympics."
Hyper, long time supporter of the NBL, is also looking to repeat as National Team Champions, but they realize the task isn't going to be easy. "Being the reigning champs it's important that we stay on top of our game, we know there are a lot of good teams out there that want to be in our position of Champions," said Joe DeChamp, Hyper Vice President. "Being the Official Bike of the NBL makes that target on our backs even bigger."
"The relationship with Hyper and the NBL is an exciting one," explained Craig Reynolds of Axis Media & Marketing. "With the 2008 Olympics rapidly approaching, the addition of Hyper Bicycles to the NBL stable marks the beginning of great things to come for the sanction." Reynolds is the NBL Account Executive at Axis.
The National Bicycle League celebrates its 30th year in operation as the largest non-profit sanctioning body for BMX Racing in the US. The NBL is the only BMX sanctioning body recognized by the Union Cycliste Internationale; official cycling union of the Olympic Games. The NBL currently sanctions over 4,000 local events each year, as well as a 27 race national series.
---
| | |
| --- | --- |
| | BREW/IDC FRAME TO GIVEN AWAY AT THE DIXIELAND NATIONALS. |
4/25/04 FROM BMXMANIA.COM
Performance BMX/Supercross Factory Rider, Brandon "WolfBMX.com" Murphy bought an AWESOME, custom Brew BMX frame during an eBay auction that Brew ran for BMX Super Photog, IDCBMX's, Jack McDaniel, this past Winter. The proceeds of the auction were designated to helping Jack with the expenses of his chemo therapy in a battle with cancer that has sidelined Jack from the National BMX scene that he so regularly worked.
Brandon has decided to help out a little more by donating the frame to the winner of the 11X Main at the ABA's upcoming Dixieland National in Atlanta, Georgia this coming June 12th. Thanks to Brew and to Brandon for the help to Jack, one of the coolest BMX guys on the circuit.
---
STILE AND REVOLT TEAM UP.
4/25/04-FROM BMXMAINIA.COM
Stile Industries To Distribute Revolt Clothing - Stile Industries has hooked up with Revolt clothing to handle their distribution needs. Revolt is a new clothing line focused on making you think, they have BMX and non-BMX designs. Check them out at www.stileindustries.com and while you are there make sure you check out the latest summer tour dates as well as Transit and Stile Industries new girls clothing.
---
RACE GIRL ENDS.
4/21/04
ON A SAD NOTE, YOU HAVE PROBABLY ALREADY HEARD ABOUT "RACE GIRL" . KIMFISHER HAS CLOSED THE DOORS DOWN. I PERSONALLY APPLAUD HER FOR VERY IMPORTANT CONTRIBUTION TO OUR FINE SPORT AND HOPEFULLY SOMEONE CAN STEP UP AND CONTINUE HER DREAM TO FURTHER GIRLS IN BMX.
---
AVENT SIGNS TORY NYHUAG
4/14/04
Lakeside, California - Factory Avent / Bombshell team manager Will Rells reports that he has come to an agreement with Tory Nyhaug and his parents, Greg and Margit, to fly the "Bomb Squad" colors for the remainder of 2004. "The whole team is ecstatic about Tory being on board. They totally respect his riding ability and he fits in great with our system," added Rells. "I already sent out all his new gear and can't wait to see him out there." Look for Tory to dominate on his new Candy Red Avent Morpheus Expert XL and Candy Blue Morpheus Expert Cruiser.
Nyhaug, formerly of Factory Redline, is the reigning Canadian National #1 and current ABA NAG #1 11 Expert. Nyhaug's addition makes six NAG #1's and two National #1's on the stacked team. Tory's first race in Factory Avent / Bombshell and Fly / 661 gear will be the ABA's US Nationals in Roseville, California at the end of April.
For the latest and greatest in BMX technology check out www.bombshellparts.com and www.aventcycles.com!
Factory Avent / Bombshell is supported by the best sponsors in BMX: Fly Racing (www.flyracing.com); FSA (www.fullspeedahead.com); Shimano (www.shimano.com); Six Six One (www.sixsixone.com); Maxxis Tires (www.maxxis.com); Tangent BMX (www.tangentproducts.com); Thomson Seatposts (www.lhthomson.com); Hot Shoppe Designs (www.hotshoppedesigns.com); Red Baron Racing (www.redbaronracing.net); Moto Mag BMX Magazine (www.motomagbmx.com); IDC BMX (www.idcbmx.com).
Support the companies that support BMX!
---
ABA IN RACER X
4/14/04
ABA BMX invades Racer X Illustrated! - Chandler, AZ (April 14, 2004) In a continued marketing effort to expose ABA BMX Racing to the masses, the ABA has teamed up with Racer X Illustrated, the premier Motocross and Supercross publication. The May issue of Racer X features a full-page color ad similar to the ones in the Supercross programs available at all 14 Supercross events. The ad encourages new participants to find their local track and cash in on a free 30-day trial membership.
According to Clayton John, ABA President, "The ABA is working hard to bring new participants into BMX. We have set aggressive long-term goals, which we are bound and determined to reach. In doing so we have created a strategy to stimulate growth at the local level through increased mass marketing such as the Supercross program, our participation with the UGP Roots Jam as well as increased marketing support for our local tracks via track promotional material for their distribution. We are confident that these efforts will keep BMX racing and the ABA on top,".
---
ABA FACTORY TEAM REPORT.
4/13/04
All the Factory big guns steamrolled into Harry Leary's Cutting Edge BMX for the seventh stop on the ABA National tour, the So Cal Nationals. The Phantom / On Trac effort came into Ontario with the points lead by virtue of a couple of good finishes in Washington and Florida. Factory Avent / Bombshell was in second place with Factory Sharp in tow for third. 2003 Champs Redman / Yamaha Waverunner brought up fourth and Answer Factory rounded out the top five.
The threat of rain for the weekend came to fruition during Thursday's set-up, along with thunder and lightning, and thoroughly drenched the race facility. The rain let up on Friday however and, surprisingly, the track was in great shape for the first round of practice. All the major teams were out in full force. Redman had the best Factory pit set-up with the Yamaha Waverunner semi complementing their already huge pit area. Factory Sharp showed up with their new trailer and was looking good in the pits. Factory Avent / Bombshell had their newly stickered 25'-foot trailer out with their new 20-foot circus tent. Answer / Staats had a great setup combining the Answer trailer and the Staats rig.
All the Factory kids were flying in practice and the weekend was shaping up to be one of the best team showdowns in recent history. Answer would take advantage of their hometrack advantage as guys like Mike Brabant and Jared Garcia were flying in practice. They took an immediate hit on Friday, however, when local boy Kris Fox took a bad spill in practice and didn't look good for Saturday's motos. Avent / Bombshell's and Mike Lundy had the second straight wired, pulling riders into the second turn. The Bomb Squad's Joey Bradford had the tight and technical rhythm section down and was ready for battle. Redman / Yamaha Waverunner's Jeff Pease had some difficulties getting down the first straight in practice but, knowing Jeff, that wouldn't hold him back.
The sun rose Saturday morning to cold and overcast conditions and, once again, the threat of rain. The weather held out until after the second round of motos then the rain let loose. For the second "A" schedule national in a row, rain was going to hamper the competition. Several big names were out of the main events, including Answer's Jared Garcia, Factory Challenge's Josh Oie and Avent / Bombshell's Mike Lundy and Chad Kerley.
The rain let up for the mains, however, and On Trac grabbed a victory from Billy Russell and Avent / Bombshell pulled in wins from Alise Post and Joey Bradford. Behind firsts from locals Mike Brabant and Travis Ohrazda and BoBo Lechner and David Herman, Answer (232) took the victory. Sharp (216) grabbed second with firsts from Jarred Reuter and Blake Paulson. Redman (202) pulled in for third with a victory from Corben Sharrah.
Sunday's weather was much better with no rain in sight. Factory Sharp pulled in a win from Jarred Reuter in 8 Expert. Avent / Bombshell nabbed victories from Mike Lundy, National #1 Alise Post, TJ Johnson and Chad Kerley. Redman (225) went back on top with wins from Jeff Pease, Rell Proctor, and Corben Sharrah. Answer (216) lost Mikey Brabant to a hard spill in Semi's but pulled in firsts from BoBo Lechner and Joshua Perez and had to settle for second overall. Challenge (214) stepped it up with a win from Josh Oie which was good enough for third on the podium.
So, after Ontario, the Factory standings shake down like this:
1 PHANTOM-ON TRAC 2333
2 FACTORY AVENT-BOMBSHELL 2016
3 SHARP BMX.COM 1888
4 REDMAN-YAMAHA WAVERUNNER 1763
5 ANSWER FACTORY 1709
Since not all teams have attended the same amount of nationals, the following are team sheet averages from the first six "A" schedule nationals.
1 REDMAN-YAMAHA WAVERUNNER 228
3 FACTORY AVENT-BOMBSHELL 203
5 REDLINE (only 4 scores) 204
Look for news from the next ABA "A" schedule national the US Nationals in Roseville, California. Can Redman continue their consistent domination? Can Answer finally pull ahead of the Tribe? Can Avent / Bombshell pull through the "new team blues"? Will Sharp be able to take advantage of their home track advantage? Stay tuned!
---
MOTOMAG SUBSCRIPTION.
4/13/04 (AS SEEN ON BMXMANIA)

Moto Mag Subscription? Hang on, it's on it's way! - If you have a subscription to Moto Mag, and haven't received it yet, don't get worried, it'll be there soon. Seems that Carl Lein, the Editor at Moto Mag put way too much GREAT BMX RACING STUFF in the Mag, and the normal postage didn't work.
So, Carl's gonna send em thru again and get them off to ya. So, hang in there and it'll all be OK soon!
---
FREE AGENT LOOKING FOR LADIES INFO.
4/13/04 (AS SEEN ON BMXMANIA)
Free Agent Lookin' For Some Lady Input - The folks at Free Agent are lookin' for some input from some fast lady BMXers, on making some "Girl Specific" bike frames. If you meet the qualifications, and want to get in touch with them, you can email Free Agent by clicking here!